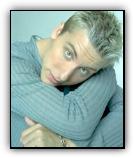 Picture Gallery

Full Name: James Lance Bass

Nickname(s): Scoop, Lansten

Birth date: May 4th 1979

Age: 21

Birthplace: Laurel, Mississippi

Height: 5 feet 10 inches

Weight: 155 lbs

Hair Color: Blond

Eye Color: Green

Parents: Jim & Diane

Siblings: Stacey, & brother in law Ford.

Religion: Baptist

Shoe size: 11

Favorite Singers: Shania Twain, Celine Dion & Garth Brooks

Favorite Films: Armageddon, and Clue

Favorite Song: "I can't choose one!"

Favorite video game: Bug

Favorite Food: Mexican, or French Toast topped with powdered sugar.

Favorite gift from a fan: A hard to find beanie baby

Lances' advice to all his fans: "Just live it up.Live everyday like it's your last."

Favorite Color: Red

Favorite T.V Shows: 'I Love Lucy' and 'Third Rock from the Son'

Crush: Country Singer Shania Twain

Favorite Actress: Jennifer Aniston Pitt

Best Friends: "My family, Leash, the guys,..The list goes on forever..."

Hobbies: Horse Back Riding, Baseball, Jet Skiing

How Many CD's Do You Own: "I have no idea."

Who was your best friend @ School: Eric