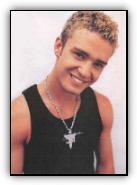 Picture Gallery

Full Name: Justin Randall Timberlake

Nicknames: Curly, Mr. Smooth, Shot, and Bounce

Birth date: January 31st, 1981

Birthplace: St. Jude Medical Center

Height: 6 feet

Weight: 160 lbs

Hair Color: Brown {occasionally bleached}

Eye Color: Pale Blue

Parents: Biological Mother Lynn Harless and Step Father Paul, Biological Father Randy Timberlake and Step Mother Lisa

Siblings: Two half brothers Jonathan and Steven

Religion: Baptist

Shoe Size: 12-12 1/2

Age: 20

Favorite Music: Stevie Wonder,Take 6,Dru Hill,Boyz II Men,and Brian McKnight

Favorite TV Show: Seinfeld

Favorite Food(s): Pasta, Cereal~ Apple Jacks and Oreo O's

Favorite Gift from a Fan: A basketball.

Justin's' Advice to you: "You have to practice your craft if you want it to be the best it can possibly be."

Justin's' favorite N Sync song: "God Must Have Spent A Little More Time On You," because it is the PERFECT love song. He states "I'm a very spiritual person, so it relates to me."

Favorite Childhood Memory according to mom: "Different guitars, He always dragged around some kind of little plastic banjo or guitar"

Collector's items: Sneakers and Basketball gear.

Star Sign: Aquarius

Favorite type of music: R&B or Hip-Hop

Favorite color: Baby Blue

Car he drives: Mercedes M Class, and now a BMW M roadster...(man....)

Favorite Movies: The Usual Suspects and Twelve Monkeys

Now-a-days, you're most likely to see Justin wearing: Those bandanna's.. He has many in different colors, and I think they're really cool...