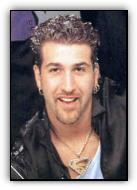 Picture Gallery

Full Name: Joseph Anthony Fatone Jr.

Hometown: Orlando,FL

Nickname(s): Phat 1, Superman, party Animal

Birth date: January 28th 1977

Age: 24

Birthplace: Brooklyn, New York

Height: 6 feet

Weight: 175 lbs

Hair Color: Brown/(w) red tips

Eye Color: Brown

Parents: Phyllis & Joseph Fatone Sr.

Siblings: Steve & Janine

Religion: Catholic

Shoe size: 12

Car: Acura SLC in metallic blue/green

Star Sign: Aquarius

Favorite Film Star: Robert De Niro

Favorite Music: Musicals, and movie soundtracks.

Favorite Unique Collection of his: Any one of his superman things.

Favorite *N Sync song: "I Want You Back," because it was the first song to go gold.

Favorite Movies: Willie Wonka and the Chocolate Factory

Favorite Video game: Bug

Favorite food: Anything Italian, preferably cooked by his mother Phyllis

Favorite Cereal: Count Chocula and Sugar Pops

Favorite Ice Cream Flavor: Mint Chocolate Chip

Favorite Gift from a fan: A superman sweater knitted buy a German Fan.

Joey's Advice: "Always Try your best"

Favorite Sports: Basketball, Boxing....hehe Flirting

Favorite Color(s): "hmm...Red...Blue....purple"

Favorite Group: Boyz II Men, 50's music

Favorite Movie: ..... I don't have a favorite movie.

Hobbies: Movies, Jet Skiing, and Clubbing

Single or Dating: Joey's is taken