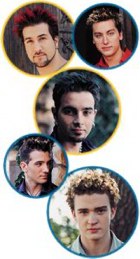 Hailing from Orlando, Fla., 'NSync are true pioneers of the "boy band" phenomenon, parlaying their good looks, flashy choreography and catchy pop tunes into mega-album sales, making them one of the most successful music groups of the late '90s.

'NSync formed in 1996 when Mickey Mouse Club veterans Justin Timberlake and JC Chasez hooked up with Chris Kirkpatrick, who was then working at Universal Studios in Orlando. The trio soon recruited baritone Joey Fatone and bass Lance Bass to round out the vocal quintet. They took the name 'NSync to describe their tight harmony and singing style.

Under the management of Orlando entrepreneur Lou Pearlman the group scored a record deal in Germany where they released their self-titled debut to much success, thanks to the smash singles "Tearin' Up My Heart" and "I Want You Back." After touring extensively in Europe and Asia for more than a year, the group was ready to take on the United States. Signed with RCA Records, the band released 'NSync to the American public in the spring of 1998 and followed up with a tour of roller skating rinks. The album went on to sell more than 10 million copies, an impressive debut.

During the recording of their second album, the band made the decision to part ways with Pearlman and RCA, convinced they weren't seeing their share of the profits from their first album and tour. Pearlman responded with a $150 million lawsuit, 'NSync counter-sued and the case was eventually settled out of court.

The aptly titled No Strings Attached was finally released on Jive Records (home to the Backstreet Boys and Britney Spears) in March 2000. The album, featuring the biting "Bye, Bye, Bye," sold a staggering 2.5 million copies during its first week of release.

In July 2001, 'NSync released their third album, the considerably edgier Celebrity, featuring the Michael Jacksonesque song "Pop."